Cornwall family suffer suspected styrene poisoning in own home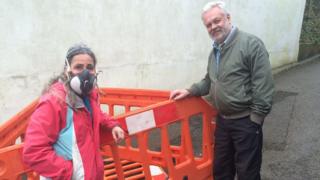 A family has been warned by doctors not to return home after showing signs of styrene poisoning.
Dick Ogilvie and his wife Joan say they suffered from burning eyes, abdominal pain, aching joints and memory loss at their home in Cawsand, Cornwall.
Styrene is used throughout the UK to line water mains and sewers.
South West Water, which was carrying out work in the area, says there is "no evidence" their work caused the family's ill health.
The company said they used styrene in the village, and as a "gesture of goodwill" they were paying for the family to stay in a B&B while an investigation is carried out.
'It's a nightmare'
Mrs Ogilvie said there was a strong smell of gas in her house.
She said: "I've been dizzy, with headaches and feeling sick. It's a nightmare."
Read more on this story as it develops throughout the day on our Local Live pages.
What is styrene?
Styrene is a colourless or light yellow, flammable liquid, which has a sweet odour.
It is produced in industrial quantities and used in the manufacture of plastics, resins and synthetic rubbers.
Inhalation of styrene vapour can lead to irritation of the nose and throat, wheezing and coughing.
Exposure to larger amounts can result in the onset of "styrene sickness" which can include headaches, nausea, vomiting, weakness, tiredness, dizziness, confusion and clumsy or unsteady motion.
Source: Health Protection Agency
A letter signed by a specialist doctor at Derriford Hospital says Mr Ogilvie presented with symptoms of styrene poisoning and was advised not to enter the house until it had been cleared of the chemical.
The couple have been living in a B&B since the diagnosis on 2 March.
SWW said in a statement that styrene is widely used across the country to line water mains and sewers and there is "no regulatory requirement" to wear respiratory masks whilst working with the substance.
"We have visited the property with colleagues from Environmental Health, but there is currently no evidence that Mr Ogilvie's stated ill-health is connected with our works," the statement says.
"Similarly we do not believe that an apparent odour of part of his property is related to our work, but as a goodwill gesture, we have paid for Mr Ogilvie and his family to stay in a B&B, while we try to determine its source."