Newlyn in Cornwall to get first cinema in 50 years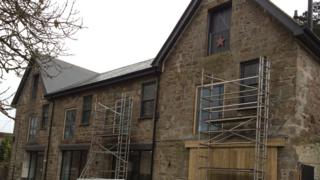 A former fish merchants building is to become the home to a Cornish town's first cinema in more than 50 years.
Newlyn has not had its own cinema since the 1960s when the old Gaiety theatre, originally opened in 1905, closed.
Owner Suzie Sinclair said the two-screen cinema would cost about £1m to develop.
She said the granite JH Turner and Co fish merchants building was "substantial" and isolated as it was "tucked into the cliff".
The two screens will seat 77 and 55 people and it is hoped eight full time jobs will be created.
Mrs Sinclair said: "We want to be very flexible because we are independent. We will listen to what people want to see.
"What's brilliant about something like that is if you choose something obscure, you will see other people like yourself who want to see your favourite film.
"People are very aware of film and often can't find it in West Cornwall and we are hoping we will fill that market."
Sean Stephenson, one of the builders on the project, said: "What you get on paper and what you actually got because of the shape and angles of the walls, everything becomes a bit of a test.
"It is nice for Newlyn to have a cinema back and I think it will be well used."