Cornwall WW2 veterans awarded Legion d'Honneur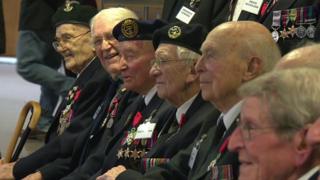 France's highest military honour has been awarded to 21 World War Two veterans.
The Legion d'Honneur was given to the veterans in Cornwall, who invaded German-occupied France in June 1944.
The honour is in recognition of their roles in France and Europe's liberation from the Nazis.
William Stoneman, 88, who flew with the RAF as a rear gunner in a Halifax bomber, said he was "astounded and thrilled to bits".
During the ceremony in County Hall in Truro on Thursday, Mr Stoneman said he had frequently dropped agents and supplies behind enemy lines during war.
D-Day was the first stage of the Allied invasion of Nazi-occupied Europe, changing the course of the war.
The French government announced on the 70th anniversary of D-Day in 2014 that it would award all surviving veterans with the Legion d'Honneur.