Stephen Coops inquest: Man stabbed daughter and killed himself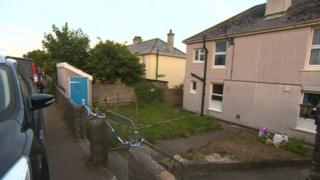 A father with a history of mental health problems stabbed his young daughter before killing himself, an inquest heard.
Stephen Coops, 40, from Cornwall, had been diagnosed with schizophrenia but was thought to have recovered ahead of his death in May 2015.
His family said health professionals should have acted on "red flags".
The coroner said Mr Coops was "an ill man, not a bad man" and recorded a conclusion of suicide.
On 29 May 2015 police were called to reports of a stabbing at the Coops' house in Whitecross near Polruan.
Assistant coroner for Cornwall, Barrie Van den Berg, said it was obvious the wounds that caused Mr Coops' death had been self-inflicted.
His five-year-old daughter was found with serious injuries and airlifted to Derriford Hospital in Plymouth.
The inquest heard she has since made a full recovery.
Mr Coops' wife Jacqueline said after the stabbing her husband told her: "I'm sorry - I had to do it to save ourselves."
Mrs Coops said her husband had become "really depressed" a couple of weeks before his death.
March 2011 - Mr Coops' family first tells mental health services they are concerned about his behaviour
September 2011 - Mr Coops is given his first mental health assessment
October 2011 - Mr Coops crashes his car on purpose while travelling with his family near Swansea
October 2012 - He is discharged from a mental health unit in Bodmin and then seen every three months by psychiatrist Dr Richard Laugharne
Dr Richard Laugharne, from the Cornwall Partnership NHS Foundation Trust, told the inquest Mr Coops had a history of cannabis use and had been diagnosed schizophrenia.
He last saw Mr Coops in February 2015 and "felt very positive about how things were going".
Following the inquest Mrs Coops said: "Red flags were still there and now it's too late.
"They will say lessons have been learned but how many times will we have to hear that before changes are made."