Crowds strip whale carcass on beach in Bude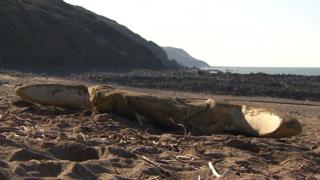 Crowds have stripped a whale carcass washed up on a beach in Cornwall - leaving only one heavy bone behind.
The fin whale, thought be about 65ft (20m) long, was washed up on Wanson Beach near Bude in January 2015.
The owner of the beach said the public had engaged in "vulture culture" and was told some parts of the whale had been sold online.
The last remaining bone was dragged from the beach by members of Bude Rugby Club and may now be kept in the town.
Jane Montague, who owns the beach, said: "It was a little bit like vulture culture down here. We had a lot of people helping themselves to it."
She said the soft tissue of the whale was eaten by birds and washed away by the sea over several months - further revealing the skeleton of the animal.
Ms Montague said people used hacksaws to dismantle the whale and she was told bones were being sold on the online trading site eBay.
The Bude Heritage Centre is considering placing the remaining bone, thought to weigh about 450lbs (200kg), on display.