Firm denies holiday ban for hospital staff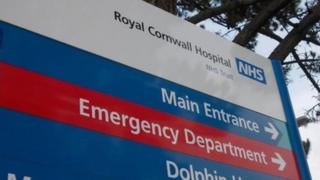 A private hospital firm has rejected union claims that it has "banned" staff holidays.
Unison said a ban had been brought in by Royal Cornwall Hospitals Trust (RCHT) employer Mitie due to a backlog of holiday requests.
The union said "instructions that all annual leave will be declined until April had been written in the message book".
Mitie said: "We have not refused any requests".
The firm provides about 100 staff, including caterers and cleaners, for RCHT.
Sarah Woodward from Unison said Mitie had failed to pay staff correctly last month, and the holiday ban was "the latest in a long line of incompetent behaviour".
"Unison are disappointed that Mitie are being untruthful, it is very disrespectful to members to treat them badly and then lie about it," she said.
She said Unison had called on RCHT to terminate the contract with Mitie, but the trust was "not taking this seriously".
Mitie said: "It is important for people to take their holidays.
"It is right to say that there is a lot of holiday booked in March and at some point we would have to talk to people about alternative plans if we were concerned that there may not be enough people available to fulfil the terms of our contract. But so far this hasn't happened."
A RCHT spokesperson said it has "ongoing contractual discussions" with Mitie to make sure it gets the best service possible for patients and staff.
They added: "The trust publishes regular updates on Mitie's performance and progress in our Trust Board meetings and on our website."