'Predatory paedophile' Daniel Hendra groomed teenagers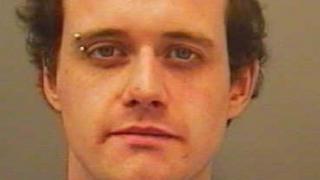 A "dangerous and predatory paedophile" who groomed vulnerable teenage boys on Facebook has been jailed.
Daniel Hendra plied his victims with drugs and cigarettes and "bombarded" them with messages.
Hendra, 29, of Coronation Place, Helston, was jailed for six years at Truro Crown Court after pleading guilty to six sex offences.
When one of the boys pleaded to be left alone Hendra told him he would share pictures of him undressed.
Sentencing, Judge Simon Carr told Hendra: "You are a very dangerous and predatory paedophile and will be one possibly for life."
All of the victims involved had a "greater or lesser degree of vulnerability".
Facebook messages
The judge said pre-sentence reports revealed how Hendra maintained he was "a victim" who had been "led on" by children.
The prosecution said it was not known how Hendra first got hold of contact details for the young boys.
He sent two teenage boys hundreds of messages by text and on Facebook and filmed them undressing in a playing field in June 2013.
When one of the boys told his mother what happened police arrested Hendra and found indecent images of other children on his mobile telephone.
In July 2014 Hendra made contact online with two other teenage boys and paid one of them to engage in sexual activity.
In February 2015 Hendra arranged on Facebook to meet a 15-year-old boy named "Harry" - which was in fact a false profile created by Devon and Cornwall Police.
Hendra was sentenced to six years in jail and six years on extended licence for attempting to pay for sex with a child.
He was given concurrent sentences of two years for two counts of paying for sex with a child and 18 months for attempting to meet a child following sexual grooming with no separate penalty for making indecent pictures of children.