Josh Clayton's Isles of Scilly death remains a mystery to mother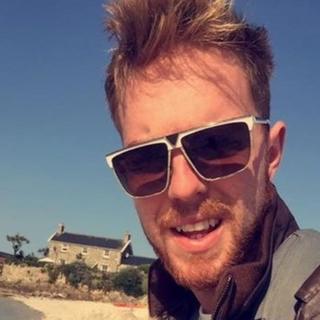 A mother whose son was found dead in the sea off the Isles of Scilly has said she still does not know what happened to him five months after he first went missing.
The body of Josh Clayton, 23, was recovered from rocks to the north of Tresco on 23 September following a major eight-day search.
His mother, Tracey, said his disappearance was "heartbreaking".
Authorities could not confirm whether a post-mortem had been carried out.
'Never expect it'
Ms Clayton told BBC News: "We still don't know what happened to him and it just goes round and round in your mind.
"You never expect it when you're kissing your son goodbye, how ever old they are. It's heartbreaking."
A major search was launched for Mr Clayton, from Taunton, after he went missing on 13 September.
His body was discovered by a French yachtsman and recovered by the St Mary's lifeboat.
Ms Clayton has organised a sponsored walk on Saturday in aid of the Cornwall Search and Rescue, which was one of the organisations involved in the search for Josh.
The charity said the money would help pay for high power torches and communication and medical equipment.
The coroner for Devon deals with deaths which take place on the Isles of Scilly.
Neither Devon and Cornwall Police nor the coroner's office could confirm if a post-mortem had been carried out or when an inquest into Mr Clayton's death was due to be held.
Mr Clayton was working for the Tresco Estate which owns large parts of the island.