South West floods: Nine houses flooded in Portreath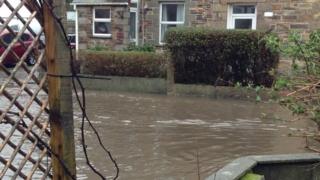 Nine houses were flooded in a Cornish fishing port which had been issued with a danger-to-life alert on Saturday.
The Environment Agency issued its severe warning for Portreath, following heavy rainfall across the South West.
The Environment Agency said evacuation plans had been drawn up for Portreath.
There are still flood warnings and flood alerts in place across Cornwall, Devon, Somerset, Dorset and Wiltshire.
Paul Gainey from the Environment Agency said staff were initially unable to unblock a drainage gate in Portreath, which meant "the water built up and built up" in the road near the tunnel.
He said the agency had anticipated flooding in up to 50 homes in Portreath, and that the police had drawn up evacuation plans.
However, a mechanical claw device was used to unblock the screen by 16:00 GMT on Saturday, causing the water to drain, and no one was evacuated.
In Cornwall, two properties were also flooded in Angarrack, and three properties in Blackwater.
New warnings
Warnings of flooding for Cornwall, Devon and Somerset have now all been downgraded from a medium risk to a low risk.
However, new flood warnings have been issued for Dorchester, areas around the River Avon in Wiltshire, and along the River Exe between Tiverton and Exeter.
Mr Gainey warned that flood alerts were likely to be issued for north Cornwall on Sunday, and that drivers should avoid travelling in the "strong gale force" winds in Devon and Cornwall.