Stefan Bray from Cornwall made 'petrol bomb factory'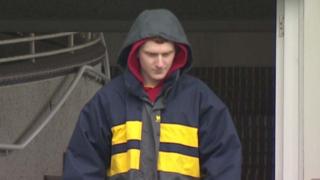 A man "obsessed with fire and explosives" who set off petrol bombs in disused mineshafts has been given a two-year suspended sentence.
Stefan Bray, 22, built a "petrol bomb factory" at his home in Redruth, Cornwall.
Bray, of Albany Road, previously admitted having an article with intent to damage or destroy property.
At Truro Crown Court Judge Simon Carr said he believed Bray's activities with bombs were "experimentation".
Balaclava and binoculars
Bray, who has been diagnosed with Asperger syndrome, was arrested on 17 May after he was spotted in a park near his home where there had been a number of fires.
Police raided his flat and found petrol bombs and nails that had been glued together.
The bomb disposal team found a balaclava, cable ties, binoculars and a hand-drawn map depicting the A30 and the nearby main railway line.
Bray claimed the map depicted a fictional event and that he had only thrown his petrol bombs down disused mineshafts.
'Exceptionally dangerous'
Police found videos made by Bray of explosions he carried out in mineshafts.
He has already spent nine months in jail and the judge said the structure of prison had had a positive effect on him.
The judge said Bray had become obsessed but he had "nothing but sympathy" for him because of his condition.
Following the sentencing Det Con Adam Partridge said Bray's actions were "exceptionally dangerous".
He said he was relieved he was caught "before his behaviour escalated and someone was caused significant harm".