Truro River: Search for two men seen in water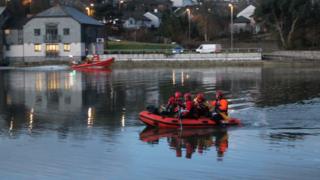 A major search and rescue operation for two men in a river has been called off after one was pulled to safety and the other apparently got out on his own.
A 28-year-old was helped from the river in Truro and treated by paramedics.
The search continued for a second man but it is thought he managed get out of the water on his own and the operation has been called off.
Police, fire, ambulance, coastguards and a helicopter were all involved in the search in Cornwall.
The road was closed at the Trafalgar roundabout, close to the Truro River.
Read more on this story as it develops throughout the day on our Local Live pages.
Devon and Cornwall Police were called to reports of two males in the water at Malpas at about 07:00 GMT.
Dan Mountain, police spokesman, said: "Fairly swiftly the first man was actually rescued from the water and taken into the care of the ambulance service."
Dave King, group manager at Cornwall Fire and Rescue Service, said: "There's a significant amount of resources here this morning to try and locate the individual who might be in the water but that's what you'd expect."