Cornwall boy Ollie Darby launches homeless appeal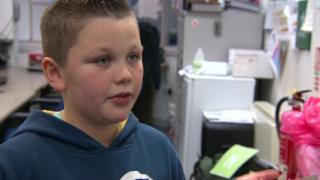 An eight-year-old boy has launched a campaign to help the homeless after being moved by the number of people he saw sleeping rough at Christmas.
Ollie Darby was so upset at seeing people on the streets, cold and hungry, he started an appeal for donations.
His message has spread and the family's home in Truro, Cornwall, has become a collection point for unwanted clothes, sleeping bags and toiletries.
Homeless charity St Petroc's Society is distributing the items.
Updates on this story and more from Cornwall
Ollie has put posters around his school and said he was aiming to collect more items for Ollie's Winter Warmers Appeal.
He said he launched the appeal because he was upset after seeing "so many homeless who were hungry and cold" in Truro and Penzance in Cornwall over Christmas.
His mother Donna said: "I'm immensely proud of Ollie, we've lost the dining room which has now become the clothes collection room in our house, but I don't mind, it is supporting the Cornish homeless."
Karina Langford, from the charity, said: "It's great that young people understand that homelessness is wrong and people should have a house or somewhere safe to live.
"It just goes to show that anything is possible."