Cribbar surfed by Kamron Matthews, 15, in Newquay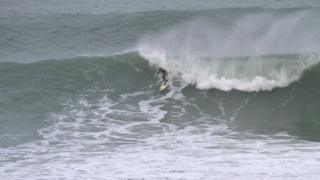 A teenager was among those to surf the giant "Cribbar" wave in Newquay, Cornwall.
Kamron Matthews, 15, was believed to be the youngest ever surfer to ride the famous 20ft wave on Saturday.
The Cribbar - named after rocks on the western edge of Towan Head - forms over a shallow reef and creates a very steep wave a few times a year when the weather and tides come together
Two windsurfers were rescued by a lifeboat in the waves on Saturday.
A spokesman said both were struggling to get back to shore in "four-to-five metres of surf and a force four offshore wind" but were brought back uninjured.
Kamron said he felt nervous and excited.
He added: "I knew if I didn't make the take off I was probably on the rocks fighting for my life really".
"It gives you the bug to go out and want more".
He surfed the waves for two hours and suffered "a couple of wipe outs" but had support on hand from big-wave surfer Tom Butler, according to his mother Gina Matthews.
"One of the waves was really quite large, probably the size of my house," she said.
"From a parent's point of view, of course, it's nerve wracking as it's your baby in the sea. When he got up I cried.
"It brings a tear to your eye as I was so proud.
"As far as we know he's the youngest person to surf it - Tom Butler was 16 when he surfed it."
Three months ago a surfer suffered a punctured lung and two broken ribs after tackling the Cribbar.