Bodmin Moor ponies to get better protection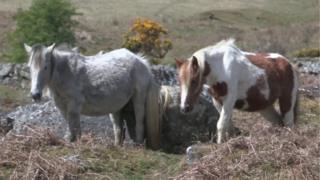 Campaigners against the neglect of moorland ponies in Cornwall say new powers have been granted to hold owners to account.
A new Bodmin Moor Commoner's Council will soon come into force which will be able to confiscate starving ponies.
Moorland ponies are owned by tenant farmers who should remove them to pasture when the grass dies back in the winter but there have been cases where the animals are left to die.
Campaigners say they are "thrilled".
Julie Dowton said previously there has been no way of identifying who is responsible for the ponies:
"It is so frustrating we cannot identify the owners and there is nothing to identify the ponies - there are no markings, they're not micro-chipped, so there's nothing that would ever get it to the point of court," she said.
Now they will have to be tagged so owners can be traced and potentially prosecuted.
Ms Dowton, said the action had taken "a lot of work over a lot of years" to bring about but she was "absolutely delighted".