Attacked PC Alice Nicholas calls for jail terms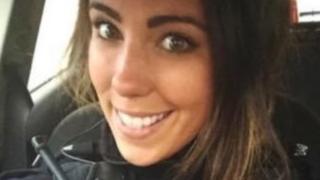 A PC who was chased by a machete-wielding man has called for automatic prison sentences for anyone who assaults a police officer.
PC Alice Nicholas called for tougher sentencing after a man who chased her was given a suspended sentence.
The man was the latest in a series of offenders who have assaulted PC Nicholas and avoided jail.
PC Nicholas, of Devon and Cornwall Police, said all officers should be able to carry Tasers.
In six years as a response officer with the force she has suffered assaults, including being punched in the face and bitten on the leg.
She told the Cornish Guardian newspaper: "I know there's a big problem with prison overcrowding but at the end of the day if there's the opportunity to send someone to prison I think that should be done to act as a deterrent.
"I do feel that if a police officer is assaulted it should be an automatic prison sentence."
PC Nicholas publicised the issue on Twitter on Thursday saying that a man armed with a machete who "repeatedly gesticulated he was going to slit my throat" had been given a suspended sentence.
PC Nicholas serves as a response officer for St Austell and St Blazey.
She has previously highlighted the dangers police officers face by posting pictures of her with a black eye and bruising to her face.
A spokesman for Devon and Cornwall Police said PC Nicholas was "a victim of crime who is speaking about a personal experience to her followers on social media".
The Ministry of Justice condemned the assaults but said there were no plans to introduce mandatory sentences for people who attack police officers.
A spokesman said: "Sentencing decisions are a matter for independent judges, who will make their decisions based on the facts of the case before them."