Cornish businesses receive government demands to recall EU cash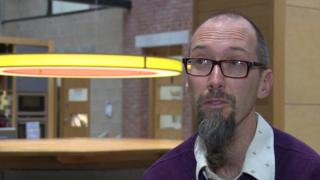 Fresh demands that Cornish businesses repay hundreds of thousands of pounds of EU grants have been made by the government, the BBC has learned.
The cash was handed out to businesses and public sector organisations in Cornwall to promote development.
Businesses said the Department for Communities and Local Government (DCLG) was demanding funds be returned - due to EU rules not being followed.
The DCLG said it had to make sure the grant funding was spent correctly.
'Unfairly penalised'
In November, the BBC first revealed the government was clawing back millions of pounds, but since then, more demands have been issued with official letters alleging irregularities in the way some businesses have spent their money.
Andrew Marston, who developed Jubilee Warehouse, a hub for creative businesses in Penryn, faces paying back £200,000. He said: "It's a very worrying situation for a small business."
Cornwall's EU millions
The county receives the most money in England
£400m of EU funding between 2000 and 2006

£500m of EU funding between 2007 and 2013

£416m of further funding coming between 2014 and 2020
AdamGibbard/VisitCornwall
He has already spent the money, but the UK government did not think his firm had advertised a construction contract in the correct way, he added.
"We're confident we've complied with the guidance but it takes a lot of time to research and provide a very detailed response."
George Eustice, the Conservative MP for Camborne and Redruth, said he had written to the DCLG requesting it reviews projects "affected by claw backs and [those] unfairly penalised".
Analysis: Neil Gallacher, BBC Spotlight's Business Correspondent
This issue has had relatively little attention and it ha been very difficult to persuade those on the receiving end of claw-back attempts to speak publicly.
After all, they find themselves accused of having done something wrong.
But we know there are many organisations caught up in this including public sector organisations and charities, private developers, education providers, arts organisers and even big infrastructure firms.
So far, ministers have not done interviews on this topic.
The fact one of Cornwall's Conservative MPs, George Eustice, has spoken of some local companies being "unfairly penalised" by UK civil servants may now focus more attention on the subject.
A DCLG spokesman refused to outline the specific issues being raised with businesses or the amounts involved.
But, he said: "From the outset every project agrees a funding contract which includes regular checks and if expenditure is found to have been inappropriate then the overall value of the award is reduced."
The EU commission is yet to comment.