Wadebridge electricity prices slashed when sun is out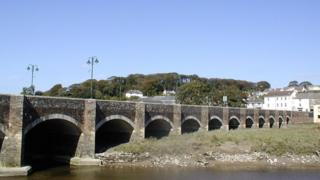 Hundreds of householders are being offered cheaper electricity when the sun is out.
The rate in Wadebridge in Cornwall will be slashed from 18p a unit to 5p a unit between 10:00 and 16:00 during the pilot scheme from April to September.
Greater daytime use sees electricity from solar farms consumed as it is generated, organisers of the plan said.
That eases the strain on the South West grid, which is said to be struggling to cope with the growth in "renewables".
Read more on this story as it develops throughout the day on our Local Live pages.
The Sunshine Tariff from Tempus Energy will be run with the help of so-called smart meters that monitor when electricity in each household is being used.
Kevin Smith from community group Wadebridge Renewable Energy Network (Wren), which is running the scheme, said: "We want to shift electricity usage to when solar generation is at its greatest.
"And it's likely that this shifted use of electricity during the day will be offset by corresponding reduced use of electricity in the evenings."
The £325,000 pilot scheme for 240 households is funded by electricity watchdog Ofgem's Network Innovation Allowance for making improvements to the National Grid.
The grid has been under strain because renewable electricity capacity in Cornwall has grown from 59 megawatts (MW) in 2010 to 604.6 MW last year.
Annual production of renewable power such as solar is enough to meet more than 28% of Cornwall's annual electricity consumption, according to green energy advisor Regen SW.
And the South West gets more than the UK's typical amount of sun, with average July figures of 194 hours between 1981 and 2010, compared with the July UK average over the period of 172 hours, according to Met Office figures.
Merlin Hyman of Regen SW said: "The growth in renewables in Cornwall means we need to think in smarter ways about how we use and distribute energy.
"Nationally we have to ask whether we build more and more power stations to cope with the peak generation and demands of the system or do we use the power to match it up better when it is far cheaper."