Care home bosses not guilty of neglect in Cornwall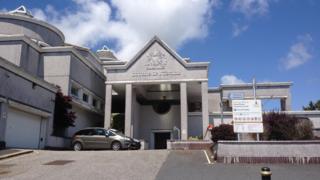 Two care home managers have been found not guilty of neglecting residents by failing to act on allegations of abuse.
Robert Rogers, 44, and Anna Dalziel, 36, did not inform safeguarding authorities about the alleged abuse in west Cornwall, Truro Crown Court heard.
However, the judge said there was no evidence this was deliberate.
Carer Emma Morse was cleared of one abuse charge and the jury were discharged from returning verdicts on five other abuse charges she faced.
Judge Christopher Harvey Clark QC ordered the jury to return the not guilty verdicts for all three staff members at the Ponsandane home, who had denied all charges against them.
He said there was no evidence the managers made a decision to hide the allegations from safeguarding authorities and he accepted evidence that "things got lost but not deliberately" amid the "turmoil of activity" at the Penzance home in 2012.
Disciplinary proceedings were ongoing at the time over allegations of bullying and misusing company property against four other junior carers, who were suspended.
He directed the jury to clear Mr Rogers of two counts of ill treatment or neglect of people who lack capacity, and Miss Daziel of one count of the same charge, while they were directed to find Emma Morse not guilty of one charge of ill treatment of people who lack capacity.
She had been accused of abusing four "vulnerable and elderly" residents aged between 85 and 90 years old between December 2011 and January 2013.
The judge told the jury he was formally discharging them from reaching verdicts on the remaining charges after a "serious complication" had arisen, which cannot be reported.
He said the prosecution would now be given time to decide whether to prosecute her again.