MP George Eustice wants Cornish language taught to GCSE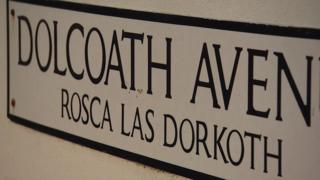 A Cornwall MP is campaigning to reinstate the Cornish language as a GCSE exam.
It was scrapped in 1996 because not enough pupils were taking it.
But Camborne and Redruth Tory George Eustice, who admitted he did not know any Cornish, said the time was right to bring it back.
Cornish is recognised as minority language by the EU and Cornwall Council is encouraging staff to use it when welcoming visitors.
Read more on this story as it develops throughout the day on our Local Live pages.
New roads signs are multi-lingual and taster sessions have been given by the Cornish Language Partnership (CLP) at many schools.
There are said to be several hundred fluent speakers and several thousand others who can speak some of the language.
---
TOP CORNISH WORDS
Dydh da. Hello.
Kernow a'gas Dynnergh. Welcome to Cornwall.
Ha sos. 'Right mate.
Myttin da. Good morning.
Dohajydh da Good afternoon
Gorthuher da Good evening
Fatla genes? How are you?
Pur dha, meur ras. Very well, thanks.
Da lowr, meur ras. Ok, thanks.
Ha ty? And you?
---
Mr Eustice said: "When I went to school I studied Latin and I never bumped into anyone in a pub who would talk to me in Latin.
"Many of the best schools in this country do teach some of those old redundant languages like Latin for the very good reason that children benefit not just from the language but also by having their mind stretched.
"It improves cognitive ability and as the best schools teach Latin why not have the great schools here in Cornwall teaching Cornish?
"It doesn't matter that it's not used in everyday parlance."
English teacher Amy Ireland said: "Having a language on your CV is really important so I think Cornish would be just as important as any other you can learn."
Mr Eustice has approached the Welsh Examination Board which offers a GCSE in that language about offering an exam in Cornish as there are similarities between the languages.