Bulgarian Annis Ghafoor went on a crime spree on his last day in the UK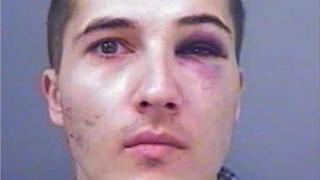 A Bulgarian migrant worker due to be flown home by a council carried out a crime spree on his last day in the UK.
Police arrested Annis Ghafoor on suspicion of theft on 5 November but released him without charge as Cornwall Council had already paid for his ticket to return to Bulgaria the next day.
He then stole from a church and tried to steal a pensioner's bag in Camborne.
Ghafoor, 24, was jailed for two years at Truro Crown Court.
He pleaded guilty to theft, robbery and attempted robbery.
Philip Lee, for the prosecution, said: "It was understood the defendant was about to return to Bulgaria - he had a ticket bought for him by Cornwall Council."
Drugs cocktail
Upon his release at about 21:00 GMT Ghafoor, of Trevenson Road, Pool, went into the Wesleyan church on Chapel Street in Camborne and stole a music folder.
He then stole a handbag and shopping bag from Michaela Locke, who was on her way home from bingo.
Dawn Pope, 72, was walking to her local shop when Ghafoor pulled her hood up over her face.
She fought with the thief over her handbag before members of the public from a nearby pub came out to help her and restrain Ghafoor.
Curtis Lewis, for the defence, said Ghafoor had taken a "cocktail" of cocaine and amphetamines before carrying out the crimes.
Judge Simon Carr sentenced Ghafoor to two years for robbery, 18 months for attempted robbery and six months for theft, with all sentences to run concurrently.