Scott Mann MP 'bullied over Wadebridge council seat'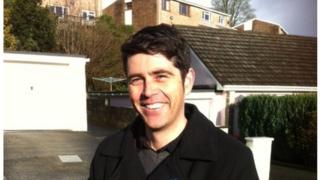 An MP has claimed he is being bullied into standing down from the council seat he has kept since being elected to Westminster in May.
Scott Mann, Conservative MP for north Cornwall, has only attended three meetings at County Hall since July - one of the worst records.
Local politicians are calling for him to give up his Wadebridge West seat for the town's sake but deny bullying him.
He said he could do both roles and did not claim his £1,000 a month allowance.
Updates on this story and more from Cornwall
Adrian Jones, chairman of the north Cornwall Labour Party and a town councillor, said "it was obvious an MP cannot do both roles".
Amanda Pennington, a town councillor from the Green Party said: "He's up in Westminster and he's working up there and there's a lot of work that needs to be done here in town... He's not letting Wadebridge have the voice that it should have".
'Political envy'
Mr Mann, who has been a councillor in the town since 2008, said there was a lot of crossover between his two roles on issues such as housing, planning and licensing issues.
"I won't be bullied out of a position that I'm effectively elected to... I think it's sometimes about political envy and people wanting to get into the position," he said.
Steven Knightley, the Liberal Democrat councillor for Wadebridge East said: "When Scott was elected he did say in his speech after the election that being an MP is a full time job and he would have to resign... I hadn't expected the interim to be quite this long".
Mr Mann said he wanted his monthly allowance to be used for "better causes" but a spokesman from Cornwall Council said if that was the case he needed to make arrangements with the authority.