Severe autism patient loses psychiatrist care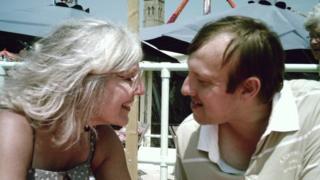 A patient with severe autism has been left without a psychiatrist in an apparent dispute over funding.
Rene Parr's mother said she realised the care had disappeared when she asked for an urgent review of his medication after he turned "uncontrollable".
Bronwyn Hocking said it was "insane" that it was unclear which health authority was responsible.
Southern Health NHS Trust said it had now agreed to fund a psychiatrist for him in future.
Mr Parr lives independently in Helston with the support of carers after moving from Oxfordshire to Cornwall in 2000.
His social care is funded by Oxfordshire County Council and his mother said she believed his psychiatrist was funded from within Cornwall.
She said she discovered her son was no longer being seen by a psychiatrist before Christmas.
'Lives could be destroyed'
"I thought, well, this is insane... he's on a level of medication that's making him uncontrollable at times and we could not get a psychiatrist who would look at his medication."
"He's done a lot of damage to his house... he's been to the police station several times."
Mrs Hocking said her son had been given an emergency meeting next week to review his medication, but she still feared he had deteriorated so much he could end up being sectioned.
"It could be eight hours away and his life will be completely destroyed and so will mine, and there's no need."
Kirsten Prance, team manager for Southern Health's North Oxfordshire Learning Disability Team, said: "I can confirm that Rene Parr's care package will continue to be funded via the pooled social and health care budget, following a formalised agreement made in December."
NHS Kernow, which commissions health services in Cornwall, said it was working with Cornwall Partnership NHS Trust to ensure Mr Parr had the treatment and support he needs.