Vanish firm probes washed up pink bottles on Cornwall's beaches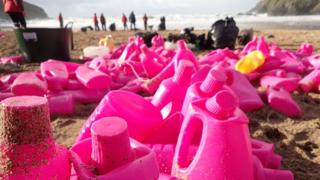 The firm behind the Vanish cleaner brand has launched an investigation after thousands of bright pink plastic detergent bottles were washed up on beaches in Cornwall.
Reckitt Benckiser (RB) is establishing whether its products were connected to the bottles that were found.
The bottles started arriving at Poldhu Cove on the Lizard on Sunday.
National Trust volunteers have been collecting them as they are said to pose a risk to wildlife.
More on this story and other news from Devon and Cornwall
Matt Slater, from Cornwall Wildlife Trust, said: "We're worried about the contents of the bottles which might have an impact on marine life, and of course the plastic bottles themselves could persist in the environment for hundreds of years.
"Plastic pollution in our seas is a great concern.
"Smaller pieces get ingested by marine animals causing illness and sometimes death."
A spokesman from RB said it was "deeply concerned" to hear about the bottles found on the beaches.
"We are aware that this is part of a shipment that was lost at sea along with a number of other containers and we are urgently looking into this in more detail."
The firm said it was providing financial, technical and logistical support with the clean-up operation and disposal of the bottles, "irrespective of the origin".
On Tuesday, the Maritime and Coastguard Agency said: "While it is fact that the MV Blue Ocean lost a container containing bottles of Vanish, there is no currently available evidence that the bottles washed up on the Cornish coast are from this container; all evidence is currently circumstantial."
It is thought the vessel lost the container near Land's End in May.