Tulip Ltd reveals Cornwall jobs at risk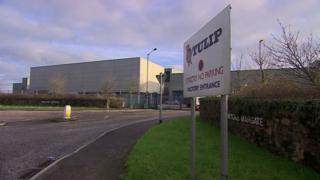 One of the UK's largest meat processing companies has revealed jobs are at risk at its Cornwall operation.
Tulip Ltd said "supplier reviews" meant it was now looking at restructuring parts of its business and about 430 positions could be affected in Bodmin.
A spokesman said it was planning to move its cooked meats section to another site in the UK.
The aim was to discuss "ways of avoiding redundancies and reducing the number of employees affected", he said.
The company said it was considering expanding its cooked bacon operations in Bodmin, but that it had still begun a consultation with staff to "discuss alternative proposals".