Humpback whales make rare Cornwall appearance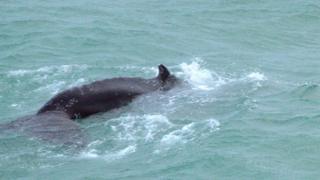 Two humpback whales have made a rare appearance in the sea off the Cornwall coast.
The whales appeared in St Ives Bay for about an hour on Saturday until they swam off into deeper water.
St Ives coastguard station and wildlife enthusiasts spotted the whales at about 10:30 GMT.
Birdwatcher Brian Mellow said: "I have seen killer whales and pilot whales before but seeing humpbacks is a lifelong ambition."
Vivian Stratton of the St Ives National Coastwatch Institution said: "Initially we thought they were minke whales but we could see they were humpbacks because of their sheer size.
"We only see the humpbacks every two years or so, so it was a delight for everyone here."