Truro Winter Wonderland branded 'utter shambles'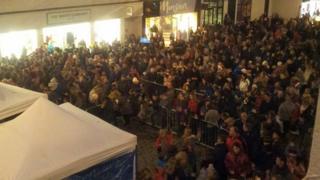 A Winter Wonderland event has been branded an "utter shambles" and a "catastrophe" amid complaints of crowd chaos and disappointing attractions.
Thousands of people gathered in Truro, Cornwall, on Wednesday to experience "snow", characters from Disney's Frozen, choirs and street food.
However, people complained characters and singers could not be seen and the promised snow was simply "sparse foam".
Organisers issued an apology after widespread criticism on social media.
Some people also complained they were "scared" and trapped in crowds which were not being adequately controlled.
Kate Jago posted on Facebook: "Ridiculous overcrowding in Boscawen street, you simply couldn't move! There were no bands, choirs, characters as had been advertised and the small snow effect was really rather sad."
Shelly Bishop said: "Grid lock... literally could not move... Frozen characters not to be seen anywhere or the choir. Asked two different stewards where the Frozen characters were, one said they couldn't get through the crowds in their costumes... Was a disappointment and not as advertised."
Organisers responded to claims children were left in tears, saying they appreciated "not everyone had a good experience" and they wanted to "sincerely apologise" to those who were disappointed.
A spokesman said: "The evening consisted of three snow machines intermittently blowing the snow over the food market area and snowball zone, nearly 2000 people had a snowballing session, hundreds of children met the 'Frozen' characters and a brass band and choir played carols from six onwards."
"Our sincere apologies to those who had a disappointing evening."
The event was free to attend but people were charged to take part in foam snowball throwing.
Jayne Pearson said: "Disgraceful , kids playing with filthy dirty "snowballs" made of pillow filling and paying £2 for five minutes to throw them."
Not everyone was dissatisfied. Amanda James posted: "We thoroughly enjoyed the evening," while Rachel Bates commented: "At the end of the Day it's Truro not Disneyland... Merry Christmas everyone!"