Urinary incontinence service in Cornwall hailed a success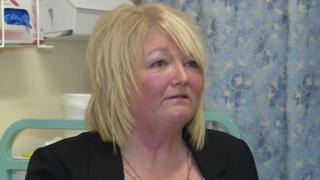 A specialist incontinence service has been recommended as a blue print for others to follow nationally.
The clinic has helped 1,000 women in Cornwall since it began two years ago.
More than 5 million women in the UK are affected by the problem, England's Chief Medical Officer said.
Farah Lone, a Consultant Gynaecologist who set it up has won a National Institute of Health and Care Excellence (NICE) award for its impact.
A spokesman for the Royal Cornwall Hospitals Trust said: "Large numbers of women are affected by differing degrees of urinary incontinence and it is those with the most complex cases that are referred to the team."
The issue was raised in the media recently after actress Kate Winslet spoke out while appearing on BBC 1's Graham Norton Show, admitting she frequently wets herself after having children.
Sharon Cooper, 53, said she had surgery after her incontinence stopped her from doing her job properly at a school.
'Couldn't walk my dog'
"I thought it would be better to have an operation and more quality of life," she said.
"I couldn't walk my dog before because of it and I couldn't go out dancing with my friends."
Dr Lone said: "There are many causes of urinary incontinence and we work closely with uro-gynaecology and colorectal experts at both Bristol and Plymouth hospitals.
"Most women who need specialist surgery can now have that here in Cornwall rather than having to travel out of county."
An 'Easy Step Guide' has been developed for referral to simplify the pathway for patients and regular teaching sessions with GPs have also been set up.
Miss Lone was announced as overall winner in this year's National Institute of Health and Care Excellence (NICE) Shared Learning Awards.
The work she has developed in Cornwall through her specialism is one of a handful of similar services around the UK.
She will work on the future national development of models of care and research in the field, having been appointed to the Royal College of Gynaecologists' Scientific Advisory Committee.