Man jailed for blinding victim in drink-and-drug-fuelled assault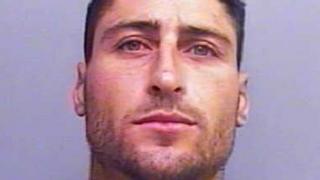 A Spanish man has been jailed for a tequila and drug-fuelled attack in which his victim lost an eye.
Miguel Lopez, 32, originally from Alicante but living in Newquay, punched a young law graduate to the ground and kicked him in the head.
The victim had to have his eyeball removed following the assault in Belushi's bar, Newquay, in August 2014.
Lopez was found guilty of wounding with intent at Truro Crown Court and jailed for seven years.
'Devastating'
The court heard Lopez had snorted the drug mephedrone, formerly a legal high, under the belief he was taking the drug MDMA.
Judge Christopher Harvey Clark told Lopez: "What you did shows how dangerous a cocktail alcohol and illegal drugs can become."
The judge said the attack had "a devastating effect" on the victim, AJ Patton-Wiggan, who was 22 at the time of the attack and spending the summer in Newquay.
Mr Patton-Wigan, from London, did nothing to provoke the attack and the judge said he could only suppose Lopez was "insanely jealous" as the victim was talking to women at the bar.
The judge said: "He has lost the sight in his left eye. Because of the inflammation of the left eyeball it has had to be removed and replaced with an artificial eye."
In a statement read out in court, Mr Patton-Wigan said he lived "in constant fear" of rupturing his implant or losing his right eye.
He can no longer gauge distances nor ride a motorcycle, as he did previously.
Lopez wept as his parents, who travelled from Alicante for the trial, tearfully gave evidence regarding their son's character.
The defendant apologised to Mr Patton-Wiggan, who was not in court, and to his family.