Engineer Ryan Thomas pole death was accidental, says coroner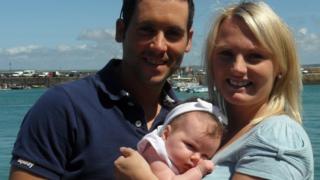 The death of an engineer who was killed while working at night on a pole supporting power cables, was accidental, an inquest jury concluded.
Western Power Distribution (WPD) engineer Ryan Thomas, 28, was working on the wooden pole near Cawsand in Cornwall in January 2013.
He was using a harness to scale it in a bid to replace an overhead line and was strapped to it when it fell.
The pole had been classified as suspect but not marked as such by WPD.
Post-mortem examination findings at the Truro inquest showed Mr Thomas suffered multiple internal injuries.
Another WPD employee told the hearing no risk assessment had been carried out.
Mr Thomas - from Grampound Road, near Truro - lived with his wife, Zara, and their baby, Maisy, who was seven-months-old at the time.
Speaking after the inquest, Zara Thomas said the family had been "dismayed and shocked" by what they heard and had been left "devastated" by his loss.
She said: "We have been appalled by Western Power's organisational failings and their attitude to the safety and working practices of its employees."
She added: "There was no planning, no consideration was given to staffing and the level of experience that was required.
"There was no co-ordination and no effective communication. People were simply left to shout to each other in the dark."
WPD said it acknowledged the inquest's conclusion and extended its sincere condolences to Mr Thomas' family.
The company said it had "introduced additional training policies and risk assessment procedures" in the wake of Mr Thomas' death.