New Sikorsky search and rescue helicopter launched by MCA in Cornwall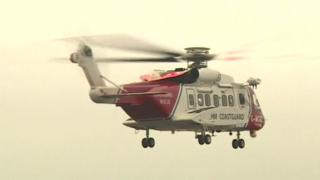 The Maritime and Coastguard Agency (MCA) has been showing off the new search and rescue helicopters to which will serve Cornwall from next year.
The Sikorsky S92, which can exceed 150mph, will be operated by the private company Bristow, putting an end to 70 years of Royal Navy service.
The MCA said while the Navy's Sea Kings had provided "amazing" service, the new helicopters were better equipped.
The two S92s will become operational on 1 January.
The helicopters, which will be based at Newquay Airport, cost about £25m, have a range of 250 miles and are capable of carrying up to 21 people, including the crew.
MCA Director Richard Parks said: "The Sea Kings, which have been offering amazing service to the United Kingdom for a long time, of course, are getting a little old - they're over 40 years old.
"We're using the latest technology with the latest sensors, so that means they can fly faster, fly further and detect and search at a higher level than we've done before."