Historic Brough motorcycles discovered in Cornwall barn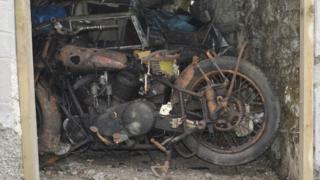 A collection of rare motorcycles has been discovered in Cornwall after being kept in barns for decades.
The Brough Superiors had been stored in barns for more than 50 years, according to auctioneers Bonhams.
The eight motorcycles, which date from between 1926-1939, were collected by Frank Vague who died earlier in 2015.
Bonhams said the motorcycles were the "last known collection" of unrestored Broughs and the most expensive would have a guide price of £80-£120,000.
Brough Superior motorcycles were built in Nottingham, at founder George Brough's factory in Haydn Road.
Built in the 1920s and 1930s, they were known as the Rolls Royce of motorcycles and used by celebrated riders such as Lawrence of Arabia.
Ben Walker, from Bonhams, described the collection as "one of the greatest motorcycle discoveries of recent times".
He said: "A lot of mystery surrounds these motorcycles, as very few people knew that they still existed, many believing them to be an urban myth."
The motorcycles were found in a barn on Bodmin Moor "submerged under decades of dust, old machinery parts and household clutter".
Among the collection is a four-cylinder Brough Superior. Mr Walker said only eight such machines were built, and the example found in the collection was the final one to be re-discovered.
British Army officer TE Lawrence, also known as Lawrence of Arabia, owned eight Brough Superior bikes.
He was killed in 1935 riding an SS100 he had named George VII.
The motorcycles will be sold at auction in Stafford in April.