Murderer Nicholas Bertram jailed for historic rape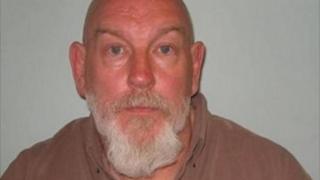 A convicted murderer has been jailed for a "vicious" rape committed more than 30 years ago.
Nicholas Bertram, 56, from Kingston upon Thames, had been arrested on suspicion of the woman's rape in Troon, Cornwall, in 1982, but was not charged.
At Truro Crown Court, Bertram denied the historic rape charge, but was found guilty and jailed for 10 years.
In the 1980s Bertram was found guilty of murdering his then girlfriend and sentenced to life.
Updates on this story and more from Devon and Cornwall
'Truly horrendous crime'
A spokesman from Devon and Cornwall Police said that in February 1982 Bertram forced his way into the home of his victim, tied and blindfolded her, before "viciously" raping her.
He said: "The victim was left traumatised by this truly horrendous crime.
"Whilst Bertram was a prominent suspect and arrested for the rape in 1982, no charges could be brought.
"This was in part due to the fact that his then girlfriend provided an alibi to officers and forensic techniques, which are now available to investigators, were unavailable at that stage."
In November 1982, Bertram - originally from Camborne in Cornwall - murdered his girlfriend and was sentenced to life in prison.
'Courageous victim'
In 2012, police reviewed the remaining forensic evidence and a re-investigation identified Bertram as the prime suspect for the rape.
Det Insp Steve Hambley said: "None of this would have been possible without the courage and commitment of the victim.
"The impact of the rape was such that she moved abroad afterwards in an attempt at a new start, and it was only earlier this year that my officers first spoke with her again about the 1982 incident.
"I believe she has shown exceptional strength and dignity throughout the whole investigation, and I do hope that she can take some closure now that her attacker has been identified."