St Erth church bell: Gnawing squirrels eat through ropes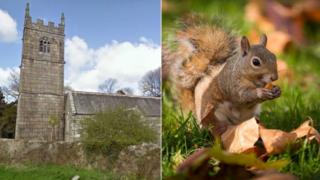 Squirrels are thought to have caused hundreds of pounds of damage by chomping through bell ropes at the top of a church tower.
Church workers discovered the damaged ropes and a grey squirrel at the top of St Erth Parish Church in Cornwall.
Peter Pascoe, tower captain, said a church bell muffle had also disappeared.
He said the animals had caused about £400 of damage to the spare ropes which were stored in the tower.
Updates on this story and more from Devon and Cornwall
Mr Pascoe said: "The only way in is through a broken grill in the top of the tower."
He said he assumed the squirrels were either creating a drey in the tower or using the rope to build a nest elsewhere.
"It's the first time it's happened, but there are plenty of squirrels in the churchyard."
Mr Pascoe said they had ruled out mice and rats because of the scale of the damage and the muffle was too big to removed by a rat or mouse.