Shelterbox founder Tom Henderson cleared of defrauding charity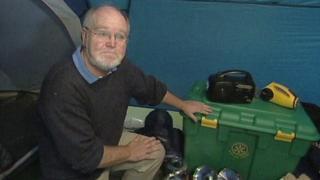 The founder of an aid charity has been cleared of fraud after a jury failed to reach a verdict.
Shelterbox creator Tom Henderson, 65, his son John, 36, from Hayle, and Darren Gervis, 43, from Dorset were all cleared of conspiracy to commit fraud.
Not guilty verdicts were accepted at the Old Bailey and the Crown Prosecution Service said it would not request a retrial.
Mr Henderson had been accused of giving his son's firms lucrative contracts.
He had strenuously denied the allegations, which led to him being sacked as chief executive in 2012.
The jury in the 44 day trial, which ended two weeks ago, failed to reach a verdict after more than 30 hours of deliberation.
They had been considering allegations John Henderson's firms had been given contracts for stoves and other aid supplies for the charity without the proper tendering procedures being followed, which meant the charity may not have got value for money.
Leaving Truro Crown Court, from where he had appeared at the London hearing via videolink, Tom Henderson said: "I'm disappointed that these charges were brought, there was no foundation to them and I'm disappointed that millions of pounds of public money has been spent on a trial."
With regard to his actions, Mr Henderson accepted there had been "errors of judgement".
"But, I can honestly say I don't thing I've done anything wrong," he said. "The damage to my personal and professional reputation has been huge."
How the story unfolded
Tom Henderson is sacked from ShelterBox in July 2012

Alison Wallace is appointed as ShelterBox chief executive in February 2013

Tom Henderson sets up the disaster charity Shelter For Humanity in April 2013

Tom Henderson is charged with fraud in August 2014
A Shelterbox spokesman said it had been a "painful and protracted process" for employees and trustees, and that "many will no doubt find this outcome quite upsetting".
"Everyone should be aware that at no point has Shelterbox, as a highly-regarded charity, been suspected or accused of any impropriety," they said.
They added Mr Henderson "was dismissed for continuing to oversee related party transactions which had been forbidden by the board" which they described as "wholly and completely unacceptable in a UK registered charity".
The idea for the large green boxes with tents and other aid supplies was developed in Mr Henderson's garage in Helston, Cornwall, in 1999.
The Asian tsunami of 2004 propelled the charity on to the world stage, when it sent up to 25,000 boxes, costing about £500 each, to the region after being inundated by donations.
Mr Henderson's efforts also saw him awarded an OBE in 2010.