Rare Columbus crabs from Bermuda wash up in Cornwall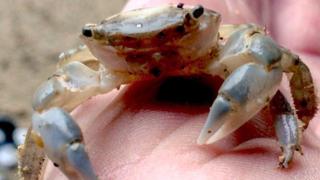 A collection of crabs from Bermuda rarely seen in the UK have washed up on the shores of the South West.
Small groups of Columbus crabs have been appearing on Cornish beaches.
They live on floating objects and have been carried by Atlantic currents and storms, experts said.
The Marine Conservation Society (MCS) said the first UK sighting of the crabs was reported in 2007 and it could be happening more due to changing weather patterns.
Richard Harrington, from the society, said: "Columbus crabs live amongst goose barnacles so they live on floating material in the ocean. They wash up, particularly on westerly coasts, very occasionally. They're quite unusual."
Columbus crabs
- Measure around four centimetres and have quite large claws which they use to hold on to floating objects.

- Have a wide variation in colour and blend in to suit their surroundings.

- Also known as the gulfweed crab, it gets its common name from the belief it was identified by Christopher Columbus on his first voyage to the New World.

- Usually spend their lives drifting on weed, driftwood, buoys or even attached to turtles in the open ocean.
Phil Ellery
Mr Harrington said marine life including crabs, mauve stingers and by-the-wind-sailors had been carried over "for a number of years" on currents that come from the Caribbean and America, but it appears the number of sightings is increasing.
He said: "Weather patterns certainly come into it. We are seeing quite a lot of westerly and south-westerly storms and gales along with the currents that drift over the Atlantic towards us."
Steve Trewhella, who has been beachcombing in Cornwall for 30 years, said he believed it was also down to an "astonishing amount of debris and litter going into the sea, creating artificial habitats for these species to come over."
Mr Harrington said there is no evidence of that but it was a "plausible theory" and more research was needed.