Climber seriously hurt in cliff fall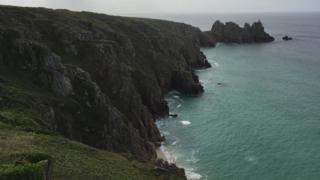 A climber has suffered "major injuries" after falling about 50ft (15m) down cliffs.
The man, believed to be a 24-year-old student, sustained head and leg injuries at Pedn Vounder, near Porthcurno, west Cornwall on Sunday.
Rescuers said it was thought the man's safety equipment failed during a group climb.
A search and rescue helicopter from RNAS Culdrose airlifted him to hospital, the UK coastguard said.
Dave Jackson, station officer at Lands Ends Coastguard Cliff Rescue Team said: "He was about 40ft to 50ft up and his equipment failed.
"He must have bounced, landed on the sand, fell backwards and hit his head. The main injury was to his left leg which had a massive gash."
Mr Jackson said he believed the man was among a group of students in their early twenties from the Penryn campus, occupied by the University of Exeter and Falmouth University.