Padstow lifeboat crew honoured for trawler-man rescue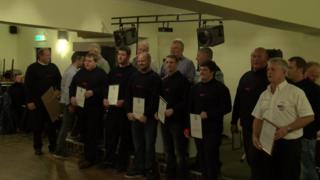 A lifeboat crew that spent six hours searching for and rescuing a French trawler-man off the Cornish coast has been given an award by the RNLI.
The dramatic rescue took place on 1 February 2014 when the French trawler Le Sillon floundered in stormy seas off Trevose Head in north Cornwall.
The boat's wheelhouse windows were shattered causing it lose all power.
The Padstow lifeboat launched into gale force winds and spent six hours searching for the French skipper.
After the initial search the crew were unable to tow the stricken vessel and a helicopter from RNAS Culdrose managed to lift five of the six fishermen to safety but the skipper was swept away.
With only a spotlight to guide them, second coxswain Richard Pitman and his lifeboat crew managed to locate and rescue him.
Unharmed apart from a minor scratch, the fisherman was taken back to Padstow where he was reunited with his crew.
Petty Officer Russ Adams from the helicopter crew received the Queen's Gallantry medal earlier this year for his efforts.
On Saturday, Mr Pitman and his crew were honoured for their bravery at a special event in Padstow.
George Rawlinson, RNLI operations director, said: 'The Padstow volunteers faced high winds and big seas and it's through their dedication and skill that the trawler skipper's life was saved.
"It's no small feat to find and pluck a man to safety in darkness and heavy seas and Second Coxswain Pitman's decision making, leadership and bravery were exemplary."