Cornwall Council to lobby government for lower voting age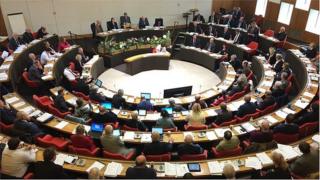 Cornwall Council is to lobby the government to lower the voting age in elections to 16.
It is suggesting a pilot could be brought in ahead of the 2017 council elections.
Joshua Boughton, the Member of the Youth Parliament for Mid Cornwall, said 16 and 17-year-olds were "politically engaged and want their voices heard".
The Cabinet Office pointed to a recent poll apparently showing more young people oppose the move than support it.
Andrew Wallis, the council's cabinet member for children, said they had "the right to fight for their country, to get married and to have children, but are not allowed to take part in the democratic process".
'Seize opportunity'
The Cabinet Office spokesman said it could not comment directly on the council's approach and its letter, but that "the age of 18, not 16, is widely recognised as the age at which one becomes an adult. Full citizenship rights - from drinking, to betting, to voting - should be gained at adulthood."
Those aged 16-17 were allowed to vote in the Scottish independence referendum with more than 100,000 registering to vote.
Owen Winter, Member of the Youth Parliament for North and East Cornwall, said young people given the chance to vote in Scotland had "seized the opportunity".
"By rolling votes at 16 out across the country we could reproduce this effect nationwide," he said.