Jewellery burglary at St Ives store Little Jems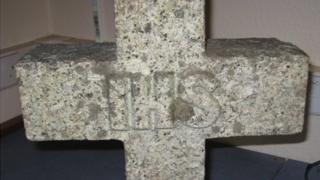 A gravestone was used to break into a jewellers and steal £30,000 worth of stock, police said.
Ten diamond rings, 15 gold bangles and 20 gold bracelets were taken from Little Jems Jewellers in St Ives.
The store on Tregenna Place was broken into during the early hours of Saturday.
The shop manager said using the gravestone was "absolutely awful" and the incident has been a "real shock" in the town.
More on this story and other news from Devon and Cornwall.
Amber Orchard said: "They managed to get through the shutter and then used the granite headstone of somebody's grave to get through the door... They managed to get the lock off the door by ramming it with the headstone.
"They did set the alarms off immediately but unfortunately they were in and out within 30 seconds," she said.
The contents of two window displays were taken as well as other items and the shop will remain closed for about a week, she said.
Police have urged any people who saw anyone acting suspiciously in the area at the time or who have seen any of the jewellery for sale to contact Crimestoppers.