'Unidentified liquid' on Cornwall beach is seaweed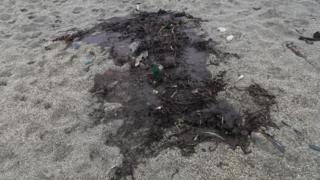 An "unidentified viscous liquid" discovered on a beach in Cornwall was seaweed, Cornwall Council has confirmed.
Cornwall Council had said the liquid might be "petroleum based" and issued a public warning.
It washed up in deposits between 2ft and 6ft (60cm and 180cm) along the high water mark from Marazion to Wherry Town.
The council said it would remove signs warning the public to stay away.
More on this story and others from Cornwall.
The Environment Agency tested the substance and found that it was decaying marine algae.
Part of Long Rock beach is owned by the Duchy of Cornwall, part by the St Aubyn Estate and part by Cornwall Council.