Truro City Football Club joy as stadium gets green light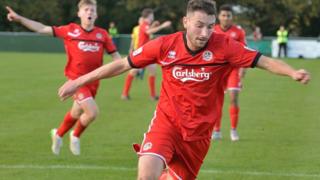 Truro City Football Club's hopes for a new stadium have moved closer with the go-ahead from the government.
The secretary of state for communities and local government decided not to call in plans for Silver Bow.
The club's current Treyew Road ground will be redeveloped for shops to pay for the move.
The secretary of state also decided not to call in plans for a supermarket at West Langarth which will help finance a 6,000-seat sports stadium nearby.
Truro City said the go-ahead for Silver Bow was "the most exciting news every fan of Truro City FC could ever wish for".
The club said directors would be meeting developers Helical Retail "immediately" and "start planning the future".
Club chairman Peter Masters tweeted that it was "fantastic news".
The Cornish Pirates rugby club, Inox Group, Truro and Penwith College and Henry Boot Developments also welcomed the decision not to call in plans for a supermarket at West Langarth.
Cornish Pirates chairman Ian Connell said: "We can now start to plan for August 2017 and playing in a world class facility in Truro.
"We have kept the faith, now we can really make it happen."
The group, called Stadium4Cornwall, said in a statement: "The stadium partners now need to complete the legal section 106 agreement with Cornwall Council and once completed, outline planning consent can then be issued.
"In the meantime marketing material is being distributed to interested retailer occupiers, who have expressed an interest in taking unit space at West Langarth."