RNLI launches £2.1m legacy-funded lifeboat in St Ives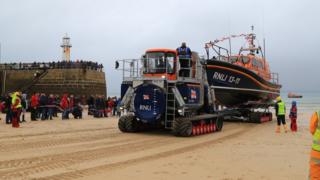 A new £2.1m lifeboat officially launched on Saturday will be 50% faster than the boat it replaces.
The Nora Stachura lifeboat is named after a woman whose legacy has paid for the new vessel.
The RNLI boat in St Ives will use a mobile launching system which operates on the beach and in the sea to drastically cut turnaround times.
Rob Cocking follows in the footsteps of his brother, father and grandfather in taking up the position of coxswain.
The lifeboat has been in my blood for over a century
RNLI
St Ives RNLI is the first station in Cornwall to receive the Shannon class lifeboat, which is powered by water jets and capable of 25 knots.
The boat is light enough to be launched and recovered from a beach yet should cope with extreme conditions.
'Proud moment'
The mobility of the £1.5m launch and recovery system will bring a turnaround time of 10 minutes on average compared with 25 minutes previously.
The new system ran into trouble in training sessions on beaches at nearby Hayle and had to be towed to safety but the RNLI said crews are now familiar with the new kit.
The RNLI said Mrs Stachura had a brother in the Merchant Navy and "a great respect for people who worked on the sea".
Coxswain Mr Cocking said the new boat would improve the safety of RNLI volunteer crews with "shock-absorbing seats and integrated management and control systems".
Mr Cocking follows a long history of relatives holding the position of coxswain and said the St Ives lifeboat has been "in my blood for over a century".
"It will be a very proud moment for me when I bring our new lifeboat into her home port," he said.