'Action taken' after water tank death, inquest hears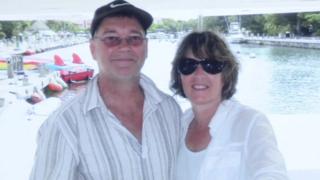 A water company has told an inquest it has taken to prevent further deaths, after an employee drowned in a tank.
Robert Geach, 54, was found face down in a sand filtration tank at Falmouth Water Treatment Works.
He had been working alone and nobody was sent to investigate his whereabouts for 90 minutes after the alarm was raised.
A South West Water spokesman said it had since brought in a new alarm system and made the site itself safer.
Robert Geach had lifted a grille which was a metre long and half a metre wide to access the valve equipment in a sand filtration tank, in December 2013.
Richard Gilpin, the head of waste water services for the company, said the grilles were now screwed down and staff can only access the equipment through a much smaller cat-flap style opening to prevent anyone falling in.
He said the new alarm system, managed by a security firm, had a panic button. It can also detect when a worker has fallen or is horizontal and a microphone can also pick up sounds of distress, he explained.
Mr Gilpin said the company believed the actions they had taken would significantly reduce the risk of harm to staff and any future deaths.
The inquest at Truro City Hall continues.