Terry Oldham trial: Richard Rosevear acquitted of murder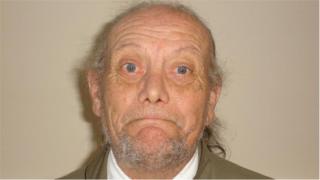 One of four people accused of murdering a vulnerable man in Cornwall has been acquitted.
Richard Rosevear, 33, of Truro Road, St Austell, had been accused of killing Terry Oldham.
The body of the 63-year-old was found at his home in Dolcoath Road, Camborne, in April 2014 after a sexual assault.
A judge told the jury at Truro Crown Court to find Mr Rosevear not guilty of murder due to "insufficient evidence". Three other people are still on trial.
Mr Rosevear was one of four people who shared a house with Terry Oldham when he died.
During the four-week trial, prosecutors said the four killed Mr Oldham after learning he was a convicted paedophile.
The three other housemates - Aaron Mallon, 25, Michelle Casterton, 43, Daniel Quinn, 24, all from Falmouth - are still on trial for murder, which they deny.
They and Mr Rosevear also face a charge of allowing the death of a vulnerable adult, which they all deny.
The case continues.