Silk poppies row in Hayle church 'shames' the town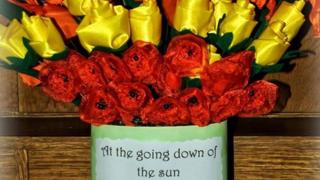 A church has been criticised for refusing to allow decorative silk poppies at a Remembrance Sunday service.
Shirley Hayes said her silk flower decorations were no longer wanted after four years of use at St Elwyn Church in Hayle, Cornwall.
The mayor said the row had "shamed" the town.
St Elwyn's Church said there had been a "misunderstanding" and that nobody was banned from bringing silk poppies.
Mrs Hayes had produced a silk sheet with poppies representing the lost lives of soldiers in Afghanistan which was previously hung on the altar during remembrance services.
She said she was told by the church warden on Wednesday the silk hanging was no longer relevant and an offer to decorate the church with silk flowers was rejected.
'Miscommunication'
Mrs Hayes said a collection of silk flowers which were left at the war altar in the church were also moved away two weeks before Remembrance Sunday.
The mayor of Hayle, Graham Coad, told BBC Radio Cornwall he feared the episode may have "brought Hayle into disrepute".
He said: "I'm shocked that everyone is making a fuss about anything so trivial as an artificial flower display."
A spokesman for the church said it had spoken with Mrs Hayes in 2014 and agreed the altar decoration would not be needed in 2015 as troops are no longer in Afghanistan.
The spokesman said: "That seemed to be accepted quite happily at the time and we were unaware that anybody had concerns."
The spokesman apologised for "any miscommunication" and said it hoped everything could "be sorted out amicably" before next year's service.