Cornish language-use council plan unanimously backed
Staff at Cornwall Council will now be encouraged to greet callers in Cornish.
The council will train staff and wants to see the Celtic language used in documents and ultimately spoken "in pubs and on street corners".
The council's cabinet voted unanimously to back plans, which first emerged last month.
Promotion of the language, previously pronounced "extinct", is funded by an annual government grant of £150,000 along with £30,000 from the council.
Now though, the Cornish Language Plan will "encourage use of Cornish greetings" by reception staff, call centre staff and officers.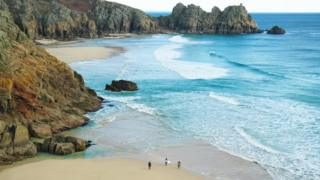 Julian German, the council's cabinet member for economy and culture, said: "We want to hear the language spoken around Cornwall - on street corners and in the pub as part of everyday life."
Some Cornish will be used on the Cornwall Council website but "without interfering in any way with clear communication".
The council estimates that between 300 and 400 people are fluent speakers who use Cornish regularly, while around 5,000 have very simple conversational ability.

Endangered languages?
At the meeting on Tuesday, Conservative councillor Fiona Ferguson asked to clarify the amount of money spent on promoting the language.
Liberal Democrat member Jeremy Rowe said: "The threat to public services doesn't come from the Cornish language it comes from the Chancellor's spending review."
The council will now lobby the government for a five-year funding plan.