Amphibious RNLI vehicle worth £1m stuck on Cornish beach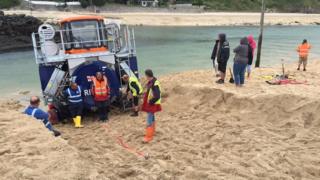 A £1m amphibious lifeboat-launching unit spent a night trapped on the beach when its tracks came off.
The RNLI launch and recovery vehicle got stuck in the sand at Hayle, Cornwall.
The tank-style tracks came off the vehicle and efforts to tow the unit out of trouble resulted in a snapped cable.
Staff were learning how to use the watertight Supacat, to be used at St Ives lifeboat station from October.
Photographer Ken Whalley, who lives nearby, witnessed the subsequent rescue attempt by a second vehicle after the unit got into trouble at around 11:00 BST on Thursday.
He said: "They had not got enough traction so the second vehicle was getting deeper into the sand."
Mr Whalley said RNLI engineers added a trailer to the second vehicle to increase the towing power, but the pulling cable then snapped.
Derek Hall, operations manager for St Ives RNLI, said staff "battened down" the unit and it was partially submerged overnight.
Mr Hall said the unit was "a superb piece of kit" that was "faster and more manoeuvrable" than the existing machine.
The new unit will be used to launch and recover the new £1.5m Shannon class lifeboat to be introduced at St Ives.
The vehicle was successfully recovered from the beach at about 16:00 BST.