Constipated girl Emily Titterington 'refused care offered'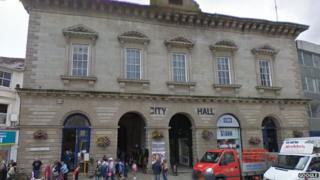 The mother of a girl who died after a three-month period of constipation denied advising the 16-year-old not to be examined or go to hospital, an inquest has heard.
Emily Titterington, from Cornwall, died from a cardiac arrest caused by chronic constipation in February 2013.
She had been seen by paramedics and out-of-hours doctors before she died, said mother Geraldine Titterington.
However, Emily refused the care offered, the inquest in Truro was told.
When asked by the Cornwall Coroner Emma Carlyon whether she had told her daughter to refuse, Mrs Titterington answered "not at all".
When challenged by her son-in law, Brian Herbert, on whether treating her daughter with homeopathy had "distracted from the seriousness of the problem" she replied "absolutely not".
Mrs Titterington said Emily had refused to be taken to hospital or be examined overnight because she had "severe anxiety" about it.
The Serco out-of-hours doctors service had already arranged for a district nurse to visit the next morning and give Emily an enema, which Mrs Titterington said she, her daughter and husband had been happy with.
'Extremely rare'
Paramedic Lee Taylor described his shock at seeing Emily's "grossly extended abdomen" after she had collapsed on the floor.
He told the inquest at Truro City Hall he tried to resuscitate the girl but had not been able to save her.
Consultant Paediatrician Dr Paul Davis said there had been "long term failures to treat a patient adequately" but "professionals had done their best for her".
He said it was extremely rare to die from constipation.
Emily collapsed and died at the family's St Austell home in the early hours of the morning.
When asked if her daughter's death could have been prevented, Mrs Titterington broke down in tears.
She said: "It could have been, if my daughter had been designated a support person, a professional person allocated to herself that she could build a relationship with."
The inquest continues.