Investigation call over crying child photos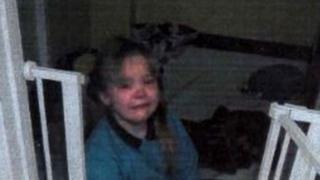 Parents of an autistic child have called for an investigation after pictures of their distressed daughter were found on her school files.
Some of the pictures appear to show Jasmine Evans in tears and being held behind a child safety gate at Tregolls School in Cornwall.
Alan Evans, 51, saw the pictures after Jasmine was excluded from the school.
The school said it took "the dignity and safety of all pupils very seriously".
Nurse Mr Evans said Jasmine was aged nine when she was excluded from the primary school for three days in January 2013.
He was told that Jasmine's behaviour had become unacceptable and included scratching teachers and upsetting furniture.
He said that when he returned to the school to help Jasmine reintegrate he was shown the school's files on his daughter which included a number of photographs appearing to show her in distress.
The family has now made those photos available to the media.
"In all my years of nursing I would never dream of taking a photo like that," he said.
"The photos of her crying break my heart."
'Brick wall'
He and wife Janet, 42, from Lanner, have called for an investigation, saying staff at the school let Jasmine down.
Mr Evans said: "I have written and spoken to educational authorities and social service, but I have been banging my head against a brick wall."
The exclusion happened four months after the school became an academy and left the control of Cornwall Council.
Tregolls School said in a statement: "This relates to a period of time when Jasmine was under the care of a different staff, head teacher and governing body than we have today.
"As far as we are aware the school acted to the best of its ability at the time.
"Jasmine left the school within the first four months of Tregolls Academy opening, when it was recommended that her needs would be best met by a specialist provision."
Cornwall Council said: "The council's children's services authority works closely with schools and with parents and carers to provide the highest possible quality of provision to meet the needs of all children in Cornwall.
"While the council is unable to comment in detail on individual children, it supports schools to follow due process in all circumstances relating to children with special educational needs."
Jasmine is currently being taught at home by her parents, who say she does not want to return to school after her experience at Tregolls.