High Court quashes Cornwall Council decision on wind turbine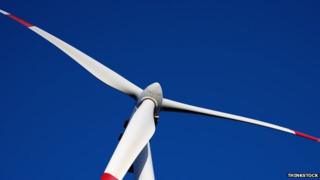 A council made "unlawful errors of fact" in giving planning consent for a 77m (253ft) wind turbine.
The High Court has overturned Cornwall Council's decision to allow the turbine after a member of the public pushed for a judicial review of the consent.
A Cornwall Council planning officer failed to report concerns from English Heritage and the National Trust to planning committee members.
Cornwall Council said it would look to "improve its procedures".
Susan Ring, partner at the Richard Buxton law firm, said there was a "systemic problem" in Cornwall Council's planning department.
Cornwall Council did not defend the case at the High Court and agreed to pay costs of £9,500 to Peter Waller who brought the case.
Clean Earth Energy made the application for the turbine at Tredinnick Farm near Newquay which was approved by the council's central area planning committee.
The facts presented to the High Court said Cornwall Council "failed to have regard to, or determine, the dispute" over the amount of electricity the turbine would generate.
'Fairness and transparency'
Court papers said the Cornwall Council planning officer failed to report "the objection of English Heritage" and "the concerns of the National Trust".
Mrs Ring said under the council's 'planning performance agreement' developers could choose which planning officer they wanted to deal with their application.
She said: "This does not instil public confidence in the fairness and transparency of the planning process."
Gareth Davies, planning manager for Clean Earth Energy, said no work had been carried out on the proposed turbine.
He said he was "extremely disappointed with Cornwall Council and added: "If they are willing to approve planning permission then they need to be willing to defend it".
A council spokesman said it "will be considering how it can further improve its procedures and learn from this decision".